Electromagnetic wave exposure sensors installed around the Massy railway station
News - 17/01/2023
As part of the Beyond 5G project, smart sensors have been disseminated near and around the Massy railway station (south of Paris) to monitor the public's exposure to electromagnetic fields in real time.

On April 12, 2022, Nicolas Glady, director of Télécom Paris, and Nicolas Samsoen, mayor of Massy, signed an agreement in the city hall whereby Télécom Paris would be installing sensors around the Massy station, to map the levels of exposure to electromagnetic fields.
The operation forms part of the Beyond 5G research project. This project, in which Télécom Paris is involved, is funded by BPI and comes under the French recovery plan: "Investment support in strategic sectors to enhance the resilience of our economy" and specifically: "Sovereignty in telecommunication networks to accelerate 5G applications to vertical markets".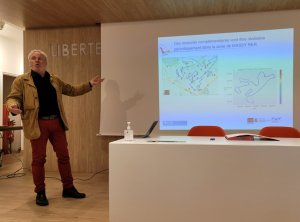 At the signing ceremony, Joe Wiart, Professor at Telecom Paris and Head of the C2M Chair presented the aims of the exposure map. The first is to provide information, by making the exposure levels of electromagnetic fields around Massy station known to the general public. The second concerns research, with studies of how artificial intelligence is used for mapping exposure in space and time. To that end, AI will cut across in situ measurements and information from the ANFR Cartoradio website.
The sensors were installed by the technical teams of the city of Massy on April 26. They were placed on public lamp posts, four meters high, on either side of the Massy-Palaiseau suburban railway station.
The sensors, sold by EXEM, are "broad band", smart and energy-independent. The measurements are made 12 times a day and sent in real-time to a dedicated server via a network of communicating objects. Information will shortly be available to the public on the Observatoire des ondes website.